ELECTRONIC SIGN-UPS
Allows contracts, agreements and other document types to be emailed and signed electronically with audit trail.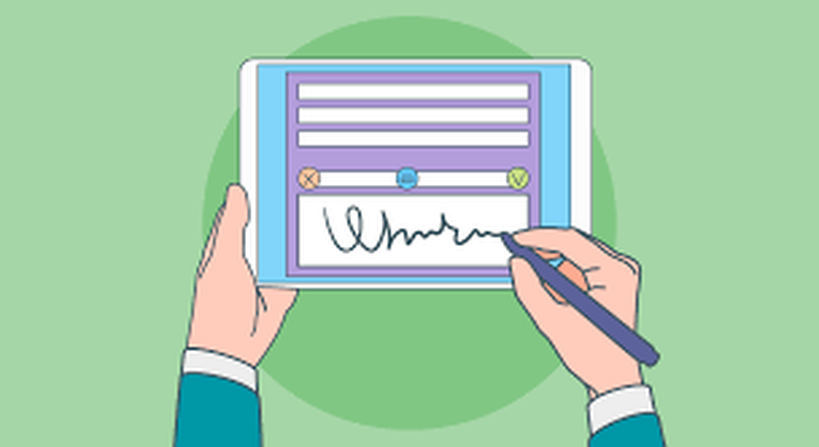 KEY HIGHLIGHTS
An effective contract management system will include embedded software that provides electronic signature capability. Considering the many benefits of electronic signatures in terms of efficiency and cost, any contract management software that doesn't include this feature is simply inadequate.



An electronic signature refers to a process of attaching an encoded signature to an electronic document. Many electronic signatures are digitally encrypted to further ensure security and authenticity – but even without the digital encryption, electronic signatures are legally binding based on the U.S. Electronic Signatures in Global and National Commerce Act (E-SIGN), enacted by Congress in 2000. No longer are companies tied to paper to execute contracts—and the resulting process improvement and cost savings can be substantial.​

BENEFITS
Benefit #1: Increased Contract Speed -
Consider, for example, how a healthcare
contract management software
can use electronic signatures to speed time-sensitive contracts that critically affect patient care. Hospital contract management software that includes electronic signing can prevent any unnecessary delays in finalising contracts, and this expediency results in improved hospital performance. Health care professionals – like professionals in almost any field – have enough to worry about without having to wait for paperwork to be shuttled around before a needed contract is put in place.
There are numerous specific ways in which electronic signatures can streamline and accelerate the contract process, including:
A digital signature is good for the life of the contract, doing away with repetitive signing;
Negotiations can be speeded up because each step in the process can be authenticated and easily accessed by all parties to the contract, so that critical issues can be flagged and tracked internally until finalisation;
Even if the parties are located far apart geographically, there is no lag time for transmission of contract updates.
A corollary benefit is that the speed allowed by electronic signing reduces the cost of working on contracts that are never finalised because of circumstances that changed during a lengthy contract negotiation process.

Benefit #2: Enhanced Security -
Another advantage of electronic signatures is that – especially with digital encryption- there is less worry about security than with paper, which can easily be tampered with. Contract management software with electronic signing capability can automatically detect even minor altering, and it can record more data points than paper.
Benefit #3: Lower Transaction Cost -
Beyond the already-discussed cost savings, the automated processes of electronic signing can also reduce the financial impact of human error (e.g., signing mistakes), which can seriously slow down the process or cause eventual costly problems if initially undetected. And electronic signing software can provide alerts about suspicious records or compliance issues involved with a contract. Electronic signatures ensure everything is in order—saving the cost of fixing problems that could have been prevented.
And don't forget the obvious savings on items such as paper, copying, packaging, and shipping. These costs may seem minimal, but they add up.
Across the board, in terms of labor, material costs, and efficiency, electronic signatures save money.
© Copyright 2015-18 Data One Technologies